Oxfordshire sees rise in TB cattle slaughter cases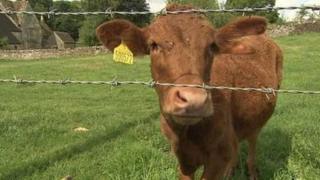 The number of cattle slaughtered because of bovine tuberculosis (TB) has risen in Oxfordshire by nearly a fifth in a year, new figures show.
Six-hundred animals were destroyed in the 12 months to March compared to 501 the previous year, the government said.
Ministers have already designated part of the county "high-risk" for bovine TB.
The National Farmers Union said the government was considering extending the area to cover the whole county.
'Split areas'
County Adviser Tom Cackett said the extension would increase the likelihood of more wildlife controls, including a possible badger cull.
The figures from the Department for Environment, Food and Rural Affairs (DEFRA) revealed that more than a third of the 1,666 cattle slaughtered in the south east of England last year were from Oxfordshire.
Two-hundred and eighty-nine animals from Oxfordshire's high-risk area were culled, compared to 311 from the lower-risk "edge area" in the county.
Mr Cackett said: "It was mentioned to us that the government does not like split areas and is looking to make Oxfordshire one or the other."
He said the slaughter figures suggested an actual rise in bovine TB in the county, although other factors such as more testing and increased cattle sales could also be responsible.
A DEFRA spokeswoman said the government was not proposing to classify the whole of Oxfordshire as a high-risk area.