Beekeeper 'cured of deadly sting allergy'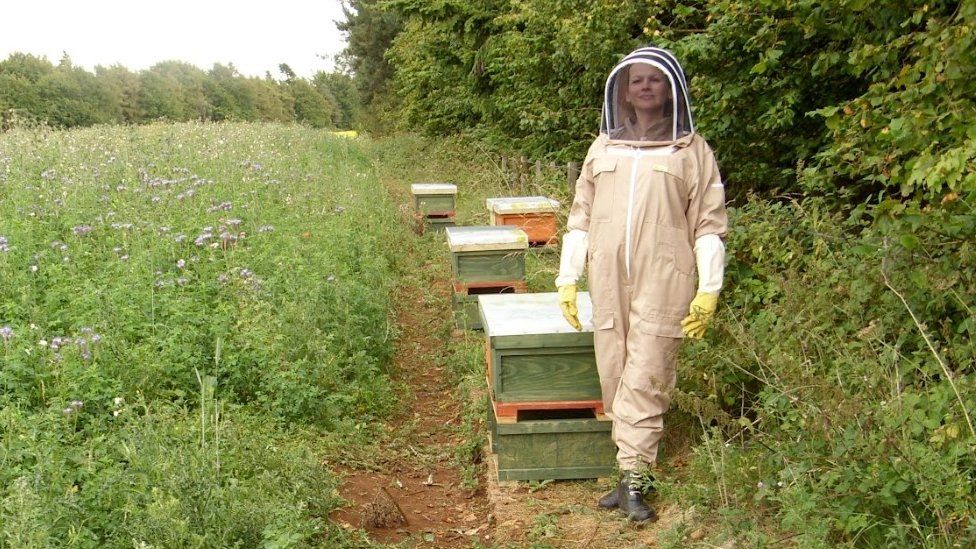 A commercial beekeeper who almost died after being stung has been cured of her allergy.
Lucy Zaichenko said she risked her life daily running the Oxfordshire-based business with her husband Viktor, which has about 150 million bees.
She was unaware she was allergic to bee stings until she suffered severe anaphylactic shock at home in 2011.
The 47-year-old has since undergone immunotherapy treatment at St Mary's Hospital in Paddington, west London.
The treatment, which she started in 2012, involves gradual exposure to bee sting venom in a bid to build up immunity.
Mrs Zaichenko's body swelled up, she could not breathe, she collapsed and was rushed to hospital unconscious after suffering anaphylactic shock at home in Hook Norton.
"Lucy's allergy was so severe that just one bee sting could have killed her," said Dr Sophie Farooque, an allergy consultant at Imperial College Healthcare NHS Trust, which runs the hospital.
Mrs Zaichenko said she was "devastated" by her allergy.
"My husband is from a long line of bee farmers and beekeeping is his passion, as well as our livelihood," she added.
The couple own 1,000 colonies of bees across several sites including their main farm at Swalcliffe Lea, near Banbury, and also in Warwickshire and Gloucestershire.
"Every day I was risking my life because they would come in the house - some would fly in from Viktor's clothing, and, because we keep bee equipment here, the smell of pollen, honey and queen bee pheromones would attract them," Mrs Zaichenko said.
The trust said she was initially injected with the equivalent of 1/10,000th of a bee sting, and was now receiving the equivalent of two stings.
She receives injections every six weeks and because of her "extraordinarily high risk" will continue to receive long-term treatment, the trust added.
Related Internet Links
The BBC is not responsible for the content of external sites.