Temple Cowley Pools: Plans unveiled for 48 homes on site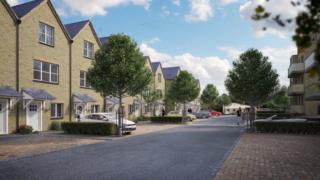 Plans have been submitted for 48 homes on the site of a former swimming pool that campaigners have been fighting to save for years.
Oxford City Council accepted a £3.5m offer for Temple Cowley Pools from developer Catalyst Housing in 2014, after previously describing the site as "outdated and too expensive to run".
The proposal consists of 35 apartments and 13 homes with 48 parking spaces.
Campaigners believe they can renovate the pool and are fighting the plans.
'Risky assumptions'
The Save Temple Cowley Pools group, which said it was exploring legal options, have urged supporters to lodge objections to the application.
It has raised concerns about the "totally inadequate" level of parking spaces for a plan "comprising 111 bedrooms, or potentially up to 222 residents".
The site also incorporates the existing Temple Cowley Library, which the new homes would "overshadow".
Catalyst Housing said the development would aim to "integrate" the users of the existing library, which would have three parking spaces.
A spokesman added: "[Our plan] strongly contributes to the housing targets of Oxford City Council and we want people to move into their new homes as soon as possible."
The city council has previously insisted the campaigners' plans to save the pool, which closed in December 2014, were always based on "risky assumptions".
Council leader Bob Price said any new housing development would make a "very big difference" to the city's stock.
The authority opened a new £9m eight-lane, 25-metre pool in Blackbird Leys to replace Temple Cowley Pools in January.