Arrest after Oxford ice cream van man robbed at knifepoint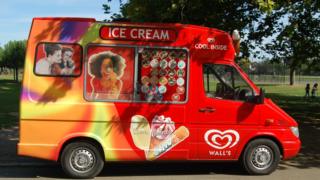 An arrest has been made after a man vaulted through the hatch of an ice cream van and and grabbed the till.
The vendor had turned his back to add toppings to an order when a man leapt through the window and threatened him with a knife on Sunday.
The robber was chased, with the till, by the ice cream man along Kelburne Road, Oxford, police said.
A 43-year-old man from Oxford has been arrested on suspicion of robbery and is currently in custody, police said.
The force reported that at one point the robber entered a property and changed clothes before re-emerging and continuing to run way.