Kerry Reeves murder: Billy Johnson and Charles Noble jailed for life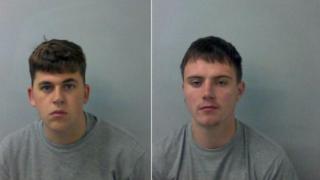 Two drug dealers have been jailed for life for shooting dead a woman who went out looking for them with a metal baseball bat.
Kerry Reeves, 26, died two days after being shot in the face outside flats in Abingdon, Oxfordshire, in November.
Billy Johnson, 20, of Corby, Northamptonshire and Charles Noble, 21, of Northolt, north-west London, were found guilty of murder on Friday.
They were ordered to serve a minimum of 25 and 21 years respectively.
Passing sentence, Judge Zoe Smith said both defendants "assisted and encouraged each other" in the lead-up to the shooting and had "every intention" of using the sawn-off shotgun.
She said: "[both men were] engaged in selling Class-A drugs to residents in Abingdon. They were crack and cocaine dealers who wanted to remain in business."
Speaking outside the court, her mother Nicola Reeves said the lives of family members had been "devastated beyond repair".
"Kerry had everything to live for. She had a job and friends she loved and was devoted to her little sister and brother.
"The grief we are feeling cannot be put into words," she added.
Prosecutors called the pair "ruthless and violent".
The trial at Oxford Crown Court had heard Johnson, of Ripon Court, Corby, and Noble, of Kempton Avenue, Northolt, were heroin dealers and there had been "instances of violence and harassment" between the pair and Ms Reeves' friends for months
Ms Reeves, armed with the bat, and two of her friends had gone looking for the pair when they were ambushed by them outside the flats at Thornhill Walk, Abingdon, on 3 November last year.
She was shot close to her left eye with a sawn-off shotgun and died in hospital two days later.
The murder weapon has never been recovered.