Kerry Reeves murder: Billy Johnson and Charles Noble found guilty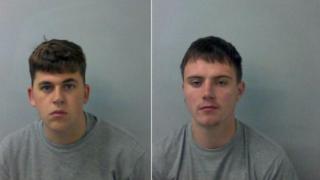 Two drug dealers have been convicted of shooting dead a woman who was looking for them armed with a baseball bat.
Kerry Reeves, 26, died two days after being shot in the face outside flats in Abingdon, Oxfordshire, in November.
Billy Johnson, 20, of Corby, Northamptonshire, and Charles Noble, 21, of Northolt, north-west London, were found guilty of Ms Reeve's murder.
Oxford Crown Court heard there had been "tension" between the defendants and some of her friends for months.
Johnson, of Ripon Court, Corby, and Noble, of Kempton Avenue, Northolt, were heroin dealers, the court heard.
Prosecutors said there were "instances of violence and harassment" between the pair and Ms Reeves' friends.
Jurors were told how Ms Reeves, armed with a metal baseball bat, and two of her friends had gone looking for the pair when they were ambushed by them outside the flats at Thornhill Walk, Abingdon, on 3 November last year.
Ms Reeves was shot close to her left eye with a sawn-off shotgun. She was taken to John Radcliffe Hospital in Oxford but died two days later.
'Extremely ruthless'
The murder weapon has never been recovered.
Adrian Foster, chief crown prosecutor, said although it is believed that Johnson pulled the trigger, both men had worked together and had plotted the murder.
"They both acted jointly, together, and are clearly extremely ruthless, calculated and violent individuals."
Det Ch Insp Mike Lynch, of Thames Valley Police, said: "It is with regret that neither of the men showed any remorse for taking the life of an innocent woman by shooting her at point blank range.
"Kerry's murder has had a huge impact on her family and the community of Abingdon."
Johnson and Noble are due to be sentenced at Oxford Crown Court on Tuesday.