Legal action brought over Oxfordshire children's centre closures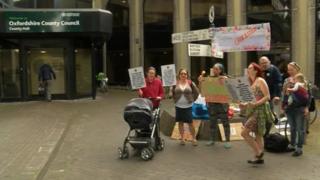 Campaigners fighting the closure of children's centres in Oxfordshire have begun legal action against the county council.
They claim the council was breaking the law by targeting the centres for closure as it looked to find savings in its budget.
Cabinet members earlier voted to keep open 18 of 44 centres.
The council said the campaigners' claims were "legally and factually misconceived".
It confirmed it had received the legal papers regarding a judicial review. No date has yet been set.
The council had initially proposed closing all 44 centres and replacing them with eight new facilities in a bid to cut £8m as part of its overall effort to find more than £361m in savings between 2010 and 2020.
Among those who attended protests was Clare Currie, the prime minister's aunt, who called the services under threat "really vital for people's wellbeing".
But at an emotional budget meeting in February councillors agreed to reduce the controversial cuts to £6m.
Addressing the latest council cabinet meeting, Charlie Payne of Save Oxfordshire's Children's Services said the authority had "chronically underfunded" children's social care.
The meeting agreed eight children's and family centres, two "shared locality bases", and eight outreach centres would be kept open.
Leader of the Conservative-run council Ian Hudspeth said the authority had to find "sustainable ways" of providing the services.
"We've got to work within the finances we've got. We need to make sure the funding is for those people who actually need it most," he said.