First residents move into Bicester's 'eco-homes'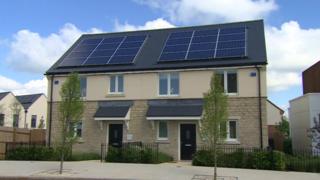 Residents have started to move into the UK's first housing complex where every home has solar panels installed.
The Bicester project envisages scope for 6,000 properties with 91 now completed on the Elmsbrook development.
The A2Dominion-built scheme includes a new school and 250 care apartments and is said to be the largest zero-carbon emission project of its type in the UK.
Cherwell District Council said it hopes to complete all phases of the development by 2031.