Faringdon arson victim hopes attack was mistaken identity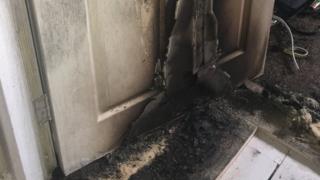 A woman who jumped to safety after her flat was targeted by an arsonist says she hopes the attack was a case of mistaken identity.
Jessica George, 22, was woken at 05:00 BST on Friday by the sound of someone leaving her flat in Russ Avenue, Faringdon, Oxfordshire.
A fire had been started outside her bedroom door and she had to jump over it to escape.
She said she had "no idea" who was responsible for the attack.
Ms George added: "I don't feel I've ever, ever, ever offended someone to that level, to want me dead.
"I've never done such a bad thing for anyone to want to do that.
"I think the person who has done this is mentally unstable. I don't know who it is, but I'm hoping it's mistaken identity."
Ms George, who is recovering from surgery to have her tonsils removed, added: "I'm very lucky that I'm a light sleeper.
"I heard the door, I got up, and I actually managed to get over the fire just before the alarm went off.
"I just ran straight out of my property, I didn't have a chance to put my clothes on, I just panicked and got out."