Oxford back garden WW1 shell destroyed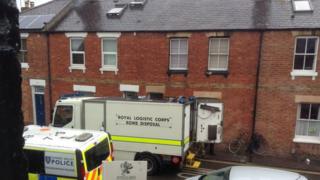 A controlled explosion has been carried out on a World War One artillery shell discovered in a back garden in Oxford.
A number of homes were evacuated after it was found at a house in the Mill Street area off the Botley Road at about midday on Saturday.
Thames Valley Police said the device was taken to an open piece of land and dealt with by its explosive ordnance disposal unit.
Residents were able to to return to their homes at about 17:20 BST.
It was initially thought the shell dated back to World War Two, but police have confirmed it was even older.
A 50m safety cordon and road closures had been put in place, with motorists and members of the public being advised to avoid the area.