Oxford's £6.7m Frideswide Square to be repaired after damage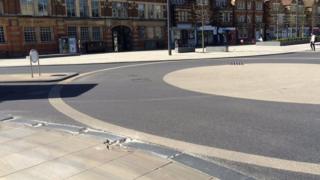 Repair work is to be carried out at a new £6.7m junction in Oxford that has already been damaged by vehicles.
Work to turn an old traffic light system in Frideswide Square into a series of three roundabouts was completed in December.
Oxford Bus Company said the turn from Hythe Bridge Street was "impossible" for coaches without striking the kerb.
The county council said work to repair "a very small area of damaged paving" would be carried out on Saturday.
It previously said the damage was caused by vehicles being diverted by work to redevelop the Westgate centre.
The work - to replace the paving with tarmac - will affect a maximum of 4 sq m (43 sq ft) of paving slabs outside the Royal Oxford Hotel, which the council said represented 0.1% of the square's overall paved area of 3,735 sq m (40,203 sq ft).
David Nimmo Smith, from Oxfordshire County Council, said the work was "a temporary measure while we finalise the options for a longer-term solution, which we expect to implement later in the summer".
Four-way temporary traffic lights will be in place during the work from 08:00 - 14:00 BST on Saturday.