Oxford greyhound stadium purchase faces 'hurdles', says council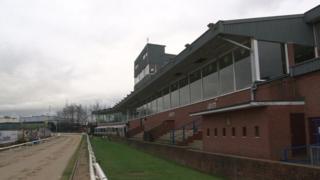 A "number of hurdles" lie in the way of a city authority using a compulsory purchase order (CPO) to buy a greyhound stadium, its leader has said.
Oxford Stadium in Blackbird Leys has not been used for greyhound racing since it was closed in 2012.
Bob Price, Oxford City Council leader, called the hurdles "legal and financial and I think those are not trivial".
The authority wants speedway and greyhound racing to return to the stadium.
A CPO allows public bodies who need land or property to buy it without the owner's consent.
Mr Price said: "We have to have a contract with somebody who's willing to run the stadium on a business basis, so we have to find that person or persons and establish a contract with them before we can proceed.
"That's something that we are now in the course of doing and we'll take that forward over the next weeks and months."
However, he said he "would be daft to be optimistic about it, but we have a way forward".
Last year a High Court judge approved the council's move to list the stadium as a conservation area.
Owners the Greyhound Racing Association (GRA) were refused permission to build 220 homes on the land in 2014.