Conservative councillor who gambled away stolen money dies in prison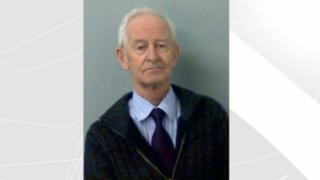 A Conservative ex-councillor who funded a Las Vegas gambling spree with cash stolen from a 92-year-old Alzheimer's sufferer has died in prison.
John Morgan, 77, abused his power of attorney to steal £154,000 from Beryl Gittens, between 2004 and 2012.
Morgan, of Highclere Gardens, Wantage, Oxfordshire, was given a five-year prison sentence in January 2014.
The Prison Service confirmed the former Vale of White Horse District councillor died at HMP Cardiff on 12 May.
'Devious and shambolic'
Sentencing Morgan, Judge Mary Jane Mowat said there was "no grosser breach of trust than the abuse of the power of attorney".
She told him: "Your history of public service stands in strange and startling contrast to the devious and shambolic way you dealt with Beryl Gittens' affairs."
Mrs Gittens has since died and Morgan said she had told him to spend her money because she did not want her family arguing over it after her death.
He spent the majority of the cash on slot machines at service stations and in Las Vegas.