Foscote Private Hospital sees 'significant improvements' after watchdog visit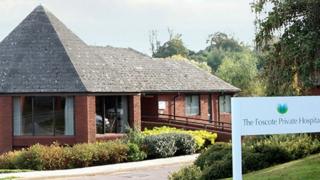 A private hospital told it needed to make "urgent improvements" to ensure patient safety has now been rated "good" by the health watchdog.
Foscote Private Hospital in Banbury, Oxfordshire, was given an inadequate rating after a Care Quality Commission (CQC) inspection in July.
Inspectors said safety was compromised during surgery because staff were working beyond their skill sets.
However, after its latest visit the CQC found "significant" improvements.
In a report released in October the watchdog said theatre nurses were "acting inappropriately" as surgical first assistants, and nursing staff in endoscopy had not received formal training.
'Safe care and treatment'
It added that risks were not "adequately identified, assessed or managed", and not all staff were able to "define abuse or how to identify adults at risk".
But the chief inspector of hospitals, Professor Sir Mike Richards, said in January "most staff were up to date with their mandatory training".
He added that staff were "caring and compassionate and treated patients with dignity and respect" and risks were captured on a risk register.
Prof Richards said: "The pace of change and improvement over the last six months has been significant.
"There was evidence that the changes were sustainable due to the new governance structure that the senior management team had introduced.
"All staff understood the importance of monitoring the quality and safety of the service and raising concerns to ensure safe care and treatment for patients."
Reacting to the new rating, Mr David Budd, chair of trustee's, said: "Everyone at the Foscote Hospital is delighted that all of the hard work and effort which has been put into turning around the rating of inadequate of last year has been recognised, and we now have a new rating of good throughout the hospital.
"We are all looking forward to the future and will continue our commitment to serving the local community with their healthcare needs by providing great patient care in a friendly environment."