Oxford sex exploitation girl 'locked in home' by mother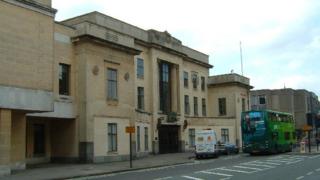 A girl who was sexually exploited over a 10-year period was locked in her house by her mother to stop her meeting older men, a court has heard.
Seven men deny sexually exploiting two girls in Oxford between 1999 and 2009.
They face 41 counts including rape, indecent assault, supplying class A drugs and making threats to kill.
Both girls were aged between 13 and 15 at the time the alleged abuse started, and were in the care system, Oxford Crown Court heard.
The court heard one of the girls, named Girl B and now aged 22, describe meeting two men on Cowley Road and being given drink and drugs.
Naim Khan and Qasim Hussein, face six charges relating to the girl, including rape and sexuality activity with a child.
The court heard some of the activity was filmed on a mobile phone.
In a police video played in court Girl B said she did not remember much as "half the time I was on drugs".
'Looked older'
In the video she said: "They definitely knew how old I was. These guys who filmed me, it's disgusting, I trusted them".
The court heard the girl explain how her mother would lock her in her house in an attempt to stop her going out to meet older men.
She said she became addicted to cocaine and went into care just after her 15th birthday.
Under cross examination by Qasim Hussein's barrister Mark George QC, she said she had been "wild", had willingly had sex with the men and had taken drugs.
"I didn't get raped, they didn't force their hands on me," she told the court.
"I looked older than I was when I was young."
Naim Khan has pleaded guilty to taking indecent indecent photographs of a child, but denies the other charges.
Earlier in the trial of the seven men, all from Oxford, prosecutors said abuse involving two girls took place at a B&B, wooded areas around Oxford and private addresses.
The trial continues.
The defendants and charges:
Naim Khan, 37 - two counts of indecent assault, two counts of supplying class A drugs, one count of rape, two counts of sexual activity with a child, and one count of causing or inciting a child to engage in sexual activity
Qasim Hussain, 30 - one count of rape and two counts of sexual activity with a child
Owais Khan, 32 - one count of indecent assault and five counts of rape
Alladitta Yousaf, 46 - four counts of indecent assault
Assad Hussain, 35 - six counts of indecent assault and six counts of rape
Anjum Dogar, 33 - two counts of indecent assault and two counts of rape
Akhtar Dogar, 35 - one count of indecent assault, two counts of rape, and one count of making a threat to kill