Trapped deer rescued from Witney river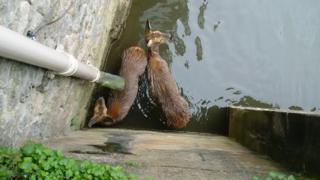 Two roe deer marooned in a fast-flowing river by a strong current had to be rescued by firefighters.
The animals were spotted standing in shallow water in Witney, Oxfordshire, at about 09:25 BST.
As rescuers approached, one deer was washed downstream and caught by the fire crews' inflatable safety line stretched across the River Windrush.
A dozen firefighters took an hour to capture both animals before releasing them in a meadow.