Oxfordshire safeguarding children hub Mash 'battling high workload'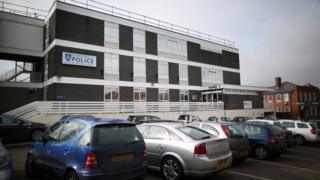 "Unacceptably high" workloads of social workers in Oxfordshire are leading to an inconsistent service for vulnerable children, a report said.
An inspection of the county's Multi-Agency Safeguarding Hub (Mash) - by Ofsted and other regulators - found no action was taken in 75% of referrals.
It said this was because the threshold for it taking action was not well understood by bodies such as schools.
The council welcomed the report's finding that no children were at risk.
Updates on this story and more from Oxfordshire
It also praised Kingfisher - the county's specialist, multi-agency child sexual exploitation team - set up after Operation Bullfinch, which led to seven men were convicted of abusing six girls.
Mash was set up 18 months ago and is made up of members from Thames Valley Police, the county council, and three health trusts.
It shares information on children thought to be in danger, and decides whether action needs to be taken.
The joint inspection was carried out by Ofsted, Her Majesty's Inspectorate of Constabulary, Her Majesty's Inspectorate of Probation and the Care Quality Commission.
It found that agencies in Oxfordshire now respond "robustly to child sexual exploitation" and the county has "a highly developed and well-functioning approach".
The report also said the Kingfisher team "ensures that there is a high standard of inter-agency working".
What was Operation Bullfinch?
Operation Bullfinch was set up in 2011 by Thames Valley Police to investigate child sex offences in Oxfordshire
Seven men were arrested and sentenced to a total of 95 years in prison in 2013 after a jury found they had groomed and sexually groomed six girls between 2004 to 2011
A damning report into the social care services and police investigations, published in March 2015, found 373 children may have been targeted by the sex gang
It found one victim approached police and social services in 2006, but the matter was not investigated
At the time of report, then Chief Constable Sara Thornton said they were "ashamed of the shortcomings identified in this report"
However, it said the processing of additional referrals was time consuming "and is not an effective use of resources needed to safeguard children".
"As a result of this unacceptably high workload, vulnerable children do not always receive a consistent service from children's social care.
"A good range of multi-agency activity, such as raising awareness of neglect, or community engagement on sexual exploitation, has increased demand.
"While social work resources have not kept pace and are unable to meet need."
The county council's deputy director for safeguarding, Hannah Farncombe, said the report had found "the most vulnerable children" were being kept safe.
But she added improvements would be made to the service's "front door" so less time was spent dealing with referrals that resulted in no further action.