Kerry Reeves shooting: Woman 'murdered in shotgun ambush'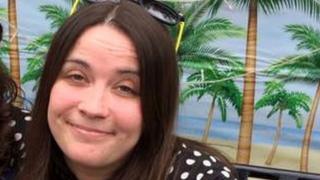 A woman was ambushed by drug dealers and fatally shot in the face after she went looking for them armed with a baseball bat, a jury has heard.
Kerry Reeves, 26, died two days after being shot outside flats in Thornhill Walk, Abingdon, on 3 November.
Prosecutors told Oxford Crown Court that days earlier one of the men bragged over having a sawn-off shotgun.
Billy Johnson, 20, from Corby in Northamptonshire, and Charles Noble, 21, from London, both deny murder.
Mark Fenhalls QC, for the prosecution, said in the weeks leading up to Miss Reeves' death there was tension between the defendants and some of her friends.
On the night of the shooting, Ms Reeves and her friends Craig Pitts and Craig Parslow went looking for Mr Johnson and Mr Noble, Mr Fenhalls said.
He told the jury Ms Reeves had a metal baseball bat, while her friends carried another bat and a metal pole.
'Landed on face'
Repeating the account Mr Pitts gave to police, Mr Fenhalls said: "He could hear rustling coming from the bushes, and saw two people going around the back of the building.
"He heard a loud, deep bang, and the two men ran off. He didn't see their faces as it was dark."
He said Ms Reeves had fallen forward and landed on her face, and when a torch was shone on her he could see her face was bleeding.
"He then describes screaming and shouting for help, and asking someone to ring an ambulance," Mr Fenhalls told the jury.
"[The defendants] had gone out together and ambushed the other group and shot Kerry Reeves."
He said both sides had a background of drugs, alcohol and violence and the two defendants were heroin dealers.
The trial continues.