Child safeguarding hub misses targets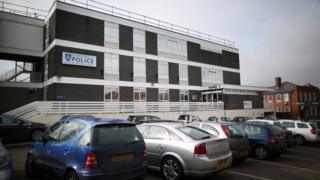 A child protection agency set up in the wake of an organised sex ring in Oxfordshire has missed referral response targets.
The county's Multi-agency Safeguarding Hub (MASH) was set up after Operation Bullfinch, where seven men were convicted of abusing six girls.
But a report by the agency's deputy director has found "concerns" over responding to referrals received.
On average, only 42% of enquiries were dealt with on time.
MASH was set up 18 months ago and is built up of members from Thames Valley Police, Oxfordshire County Council, and three health trusts in the county.
It shares information on children thought to be in danger, and decides whether action needs to be taken.
Deputy director Lucy Butler said a soon-to-be published audit on the service will have a "positive element and critical elements".
According to the report released on Wednesday, 14,189 referrals sent to MASH did not meet the criteria for an assessment by children's social care.
What was Operation Bullfinch?
Operation Bullfinch was set up in 2011 by Thames Valley Police to investigate child sex offences in Oxfordshire
Seven men were arrested and sentenced to a total of 95 years in prison in 2013 after a jury found they had groomed and sexually groomed six girls between 2004 to 2011
A damning report into the social care services and police investigations was published in March 2015 found that 373 children may have been targeted by the sex gang
The report found that one victim approached police and social services in 2006, but the matter was not investigate
At the time of report, the then Chief Constable Sara Thornton said: "We are ashamed of the shortcomings identified in this report and we are determined to do all we can to ensure that nothing like this ever happens again"
The report also found that on a number of occasions institutions who referred cases, especially schools, did not receive an update on outcomes.
Ms Butler has said that a review into MASH is underway and she has proposed creating more community-based centres to help people seek advice.
The report has said that 75% of the most urgent referrals were answered in the four-hour target given.
But only 17% of enquiries that needed to be answered within eight hours were answered on-time.
And only 8% of calls that should have been resolved within 24 hours reached that target.