Two lanes to open on 'bedlam' roundabouts in Oxford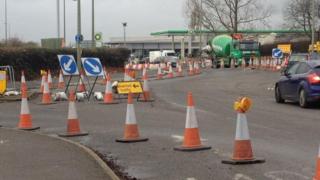 Two lanes of traffic will be opened "at the end of this week" through extensive roadworks that have caused delays in north Oxford since mid-April.
The A44 southbound between the Peartree and Wolvercote roundabout has only had one lane of traffic opened since the £10m works began, causing "bedlam".
Road users have seen delays of up to 90 minutes as a result of the works.
The decision was made to open two lanes after the council reviewed the roadworks' progress.
Updates on this story and more from Oxfordshire
'Ease people's journeys'
The traffic caused by the lane closures was described as "utter bedlam" by daily motorist Rebecca Coupland, who said she was under threat of losing her job as a result of being late for work.
Oxfordshire County Council - which operates most major roads in the county - said enough progress had been made to open two temporary lanes of traffic between the major roundabouts, close to a BP garage.
Commercial deputy-director Mark Kemp said: "[Opening two lanes] shows that we constantly look for solutions that will help ease people's journeys."
The works will widen the roads around the roundabouts to ease the flow of traffic and add a cycle lane.
Traffic lights are also being installed around the roundabouts and the council hopes work will be completed by by the end of the year.
Other works around the A40 at Cutteslowe will continue as planned.
There will be an overnight road closure on the A44 southbound between 20:00 BST on Friday, which will end at 06:00 on Saturday.