'Free walls' pilot launched in Oxford to fight graffiti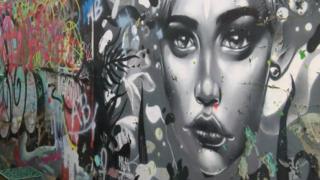 Walls where graffiti is allowed are being piloted in Oxford in a bid to reduce vandalism in the city.
The initiative includes setting up "free walls", commissioning street art, and the removal of unwanted graffiti in other areas.
The new approach was prompted by the jailing of high-profile graffiti artist Charlie Silver last year.
Council figures show it led to a near-400% increase in the amount of graffiti reported over the last two years.
Daryl Edmunds leads the anti-social behaviour investigation team and said previous approaches to cracking down on graffiti in the city had failed.
He said: "Unless you pretty much catch them in the act you are unable to get a conviction in court, so we had to look at new methods.
"You've got to try and get behind what is going on and work with [graffiti artists] to improve and respect their local community."
A new "free wall" has been set up in Oxford's South Park, adding to the existing one at the Meadow Lane skate park, and others are being planned.
Street art projects are also being considered in Botley Road, the Barton underpass and by the Canal and River Trust.
The ideas follow an "appreciative enquiry" in November that brought together graffiti artists, police officers, councillors and members of the public.
Graffiti artist Luke O'Brian, 21, said the council working with young people was a better way of tackling the problem.
He said: "I think people would put more effort into what they paint and how they express themselves, and they would show more respect."
More than 1,700 incidents of graffiti were reported in the last financial year, compared to just 350 two years before.