Oxford rail works 'will increase flood risk' to nearby homes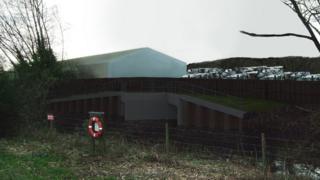 Plans to raise part of a railway line in Oxford will increase the flooding risk to 19 nearby homes, a council has admitted.
Network Rail wants to install two culverts to allow water to flow under the line at Abingdon Bridge Road.
The "highly exceptional" £18m scheme has been recommended for planning approval because it will reduce rail disruptions caused by flooding.
But residents have opposed the "damaging" plans.
Council officers said the raised track bed will create a dam across the existing flood plain, causing an increased flood risk elsewhere.
They also conceded that the scheme is contrary to the National Planning Policy Framework , its own core strategy, and the Oxford Local Plan.
The proposal - to raise a 1.2km length of track by a maximum of 43cm - has been designed so it could fit into a proposed Oxford flood relief channel.
'Benefits not proven'
In a report for the West Area Planning Committee officers said there have been 11 floods in the area since 2000.
It said: "It is considered that the wider sustainability benefits of this scheme outweigh the impacts of the modelled increased flood risk."
Officers added that no new homes would be exposed to the risk of flooding, but the potential water depth could rise by between 1cm and 3cm.
An objection submitted by an Edith Road resident said the benefits of the scheme had not been proven.
It added: "The upset to people being out of their homes for many months due to flooding is more damaging than the inconvenience to rail travellers of a few days rail closure."
Another objection from a Sunningwell Road resident said "directing floodwater towards a residential area... in order to protect a rail service" was fundamentally wrong.