Oxford hospitals pipeline route amended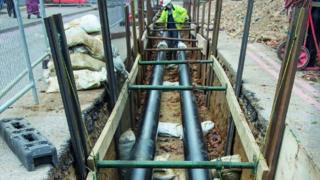 The route of a proposed pipeline linking two hospitals in Oxford is being revised.
The £14.8m scheme will transfer heating and hot water between the John Radcliffe and Churchill Hospitals.
Work on the project was halted in January when it emerged planning permission was needed.
A retrospective application was ruled "invalid" by Oxford City Council, but Vital Energi will submit a new one with an amended route in May.
At a meeting with nearby residents at Church House in Headington, the contractor said its new proposal was aimed at reducing disruption.
It hopes to restart the 18-month scheme to install the 1.6 mile-long (2.2 km) pipeline by September.
Oxford University Hospitals NHS Foundation Trust believes it will mean the buildings are less reliant on the national power grid during the winter months.
Hilary Rollin, of the Highfield Residents Association, said the meeting had been a positive one.
She added: "I feel very much encouraged... I think everything is coming out in the open much more and there seems to be a much greater will to collaborate with people and, let's hope, pay attention to the comments that are given."