Oxfordshire 'devolution deal review' goes ahead despite concerns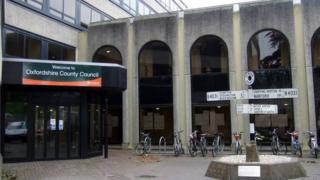 An independent review looking into the options for a "devolution deal" for Oxfordshire is to go ahead, despite concerns from the county council.
The study was jointly commissioned by seven district councils.
But Oxfordshire County Council, which faces being broken up if proposals are followed, said it would only take part once several conditions were met.
Price Waterhouse Coopers will carry out the review and gather feedback from local organisations.
Updates on this story and more from Oxfordshire
Richard Parker, partner at the firm, called it a "once-in-a-generation opportunity to re-examine how best to serve the needs of the people in the area".
Matthew Barber, leader of Vale of White Horse District Council, said on behalf of the district councils: "We ask all our partners, including Oxfordshire County Council, to work with us and engage in the work, so that we can best serve the people of Oxfordshire."
District council leaders believe abolishing Oxfordshire County Council and replacing it with four unitary councils would save the taxpayer money.
However, county council leaders have said this ruled out the benefits of having a single unitary council.
They say they will only join the study when assured it will be "fair, even handed and independent so that all parties can fully co-operate and have confidence in these findings which have such importance for the people of Oxfordshire".
In reply, the districts promised they would "engage widely with all key stakeholders" and were discussing the "best way to do that, including considering the county council's response".
The review will be completed in June, with a public consultation to follow.
---
Proposed unitary authorities:
Southern Oxfordshire Unitary Authority, replacing Vale of White Horse and South Oxfordshire District Councils
Oxford City Unitary Authority, replacing Oxford City Council
West Oxfordshire (Cotswold) Unitary Authority, replacing West Oxfordshire District Council and Cotswold District Council
Cherwell (South Northants) Unitary Authority, replacing Cherwell District Council and South Northamptonshire Council
---