No one takes out Help to Buy new build loans in Oxford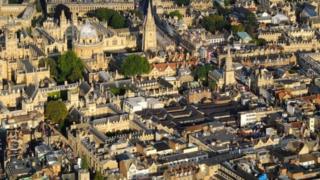 A scheme to help people buy new build homes has not been taken up by anyone in Oxford since it was introduced.
Help to Buy loans were brought in by the coalition government in April 2013 and have been used almost 1,000 times elsewhere in the county.
Campaigners said there were not enough new homes in the city and they were too expensive for the scheme to work.
The Department for Communities and Local Government said: "We know there is more to do".
A spokesman added: "In areas where levels of new-build are low, it is to be expected that take-up of the scheme will also be low."
'Prices out of reach'
Under the scheme buyers are given an interest-free loan to top up their deposits, financed by the taxpayer.
Since it was launched, more than 62,500 properties worth £13.6bn have been bought nationally.
Duncan Stott, from PricedOut.org, said the low take up in Oxford was down to the lack of affordable new build properties.
He said it was also because "fundamentally, house prices are so far out of reach of ordinary people on an ordinary wage".
Mr Stott added that he didn't think the scheme was the right answer because it encouraged people to take out large mortgages, which were "pushing house prices even further out of reach".
A government spokesman said the Mortgage Guarantee scheme, which is supported by Help to Buy, is applicable to both new builds and existing stock, and there have been 32 completions in Oxford.