Oxford's Randolph Hotel renovation complete following fire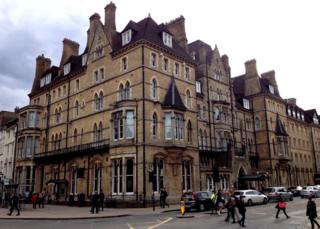 The £6.5m renovations at a five-star hotel in Oxford damaged in a major blaze have been completed.
The fire at the Randolph Hotel in April 2015, sparked by a flambéed beef stroganoff in its kitchen, ripped through three floors.
The Grade-II listed hotel was closed for three weeks, but scaffolding remained during the repairs afterwards.
Manager Michael Grange said he was proud the 150-year-old building was back to its former glory.
Updates on this story and more from Oxfordshire
'Too much cognac'
He said staff had been "particularly outstanding" during the "difficult period".
"I'm absolutely elated like all the team. It's been a long process and it's absolutely wonderful."
He explained how the fire began "when the chefs put too much cognac in the stroganoff, and the rest is history".
Beef stroganoff is no longer on the menu, he added.
Though only about 5% of the building was damaged, an 11-month revamp of the hotel in Beaumont Street took place, with all bedrooms refurbished and a champagne bar added.
The roof was also completely rebuilt.
Steve Wearing, project manager from Robertsons Associates, said the restoration was challenging.
"We try as much as possible to follow the methods of work they used in the old days and also the materials used.
"The roof timbers that were rebuilt were analysed, found to be pitch pine, and it could only be sourced in Germany.
"The bricks are as rare as hen's teeth these days and it took weeks to find.
"But it's been a pleasure to get the scaffolding down and gone, and see the hotel as it was prior to the fire."
At the height of last year's blaze 14 fire engines were on the scene and more than 80 people were evacuated.
Thick black smoke spread across the city as crews battled the blaze at the Victorian Gothic building.