Campaigners accuse council of children's centre U-turn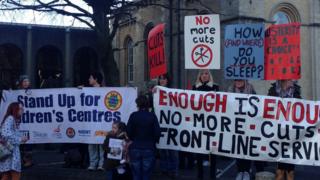 Campaigners have accused council bosses of a U-turn over plans to save children's centres from cuts of £2m.
Oxfordshire County Council said in February the money would not be removed from the budget for children's centres and early intervention hubs.
But cabinet member Melinda Tilley has now said the money was actually earmarked for the wider children's services department.
Campaigner Jill Huish said it felt like "a slap in the face" from the council.
She said: "It does feel like they've gone back on their promise.
"The statements put out by the council themselves made it very clear that there was going to be a £2m reprieve in the budget for children's centres.
"And the words 'children's centres' are quite specific."
'Brand new service'
In February the council said: "A total of £2m of savings relating to early intervention hubs and children's centres will now not take place."
But it has now said the agreement reached was to put £2m "extra" into a brand new service "incorporating children's centres, early intervention hubs and elements of children's social care".
A council spokesman said a decision on how the money will be spent had not yet been made and would go to the council's cabinet in May.
In February it was reported that David Cameron's mother Mary signed a petition against cuts to children's centres in her son's Oxfordshire constituency.