Centuries-old Brightwell-cum-Sotwell church bells fall silent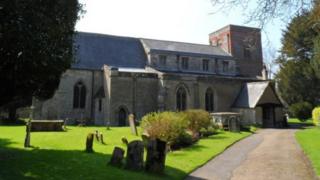 The bells of an Oxfordshire church have fallen silent for only the second time in 800 years.
Restoration work is being carried out on the bells and tower at St Agatha Church in Brightwell-cum-Sotwell.
The bells have rung to mark many services and special occasions over the centuries, including the visit of King George II in 1727.
They are expected to go on display following the work, before being reinstalled in about six months.
During the Second World War the bells also fell silent for about three years when ringing was banned except for during air raids.
Tony Lascelles, fundraising chairman at the church, described the bells as an "important aspect of the village's heritage" which has a long-standing tradition of bell ringing.
Campaigners had warned "the bells may soon ring no more" if the restoration work and retuning of the bells was not carried out.
About £70,000 was raised through local fundraising activities and grants to carry out the repairs.
---
King George II
Born in Hanover, Germany, on 10 November 1683 - the only son of the elector of Hanover
Married Princess Caroline of Brandenburg-Ansbach in 1705, and they had nine children
In 1714, George's father succeeded to the British throne, and appointed George Prince of Wales
The prince succeeded to the throne in 1727
George brought England into the War of the Austrian Succession between 1740 and 1748
In 1743, George led his troops into battle against the French at Dettingen - becoming the last British king to fight in battle
Died on 25 October 1760
Source: BBC History
---