Three Oxfordshire hotels fail sexual exploitation test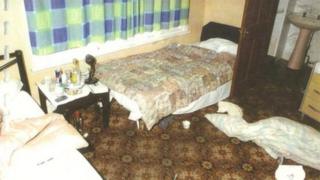 Three Oxfordshire hotels failed a test to check if they would rent a double room to a man and a 15-year-old girl.
Seven hotels and guest houses in Bicester were visited by police as part of an operation, called Hotel Watch, targeting child sexual exploitation.
Three were willing to rent a room overnight to a girl and a plain clothes officer for cash without requiring ID.
Seven men convicted as part of Operation Bullfinch abused girls at Oxford's Nanford Guest House.
The Thames Valley Police operation was carried out on 18 March and all the businesses tested were debriefed immediately afterwards.
'A real success'
A force spokesperson said no action would be taken against the hotels that failed but officers will work with them and offer advice.
It is planned that future tests will be carried out across the Cherwell and West Oxfordshire areas.
Sergeant Steve Willis, from Bicester police station, said the results of the operation would be used to create further training.
He said: "This operation was a real success as we could analyse in a safe situation how the hoteliers are dealing with these situations."
The Hotel Watch scheme involves the hotel industry, the police and local councils working together and regularly meeting to discuss issues and concerns.