Bicester nursery vandalised from rail footbridge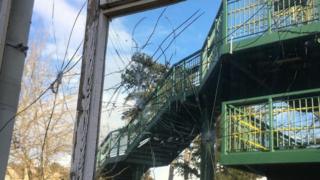 A nursery that lost a battle over the construction of a footbridge next to its garden has had its windows smashed for the second time in a month.
Child First in Bicester said it always feared the bridge off Launton Road would make it a target for vandals.
Staff were alerted to the incident on Monday afternoon by witnesses who took photos of the alleged perpetrators.
Police are investigating. Network Rail said it visited the site and would explore options to resolve the issue.
Updates on this story and more from Oxfordshire
Child First stopped using its garden after the crossing was built in 2014 because of "security and privacy issues" and the "risk of stuff being thrown from the bridge".
Andrea Leonard, who runs the nursery, said: "It was only a matter of time. We had two windows smashed last month and now they've been smashed again - five of them this time.
"The bridge has been graffitied so many times. People are bored and, on the bank holiday afternoon, decided to smash the windows.
"At the moment it's our book area that's full of glass. We have one-way film on the glass so people from the bridge can't see into the nursery but they've had a really good go - you can see the rocks.
"There are shards of glass everywhere. Luckily it's quiet because it's half term and we can cordon off that area."
The bridge was built to provide a safer alternative to an old level crossing on the Oxford to Bicester rail line and is ramped to make it accessible for people using wheelchairs and pushchairs.
Network Rail previously said it had been working with the nursery to alleviate its concerns.
Thames Valley Police said it was appealing for anyone with information about the vandalism to get in touch.