'Struggling' John Radcliffe Hospital offers neonatal nurses cash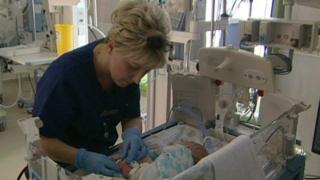 A hospital is offering a cash incentive to nurses after admitting it is "struggling" to attract more neonatal staff.
The John Radcliffe Hospital in Oxford is offering the equivalent of one month's rent - including a deposit - to staff in a bid to fill about 27 posts.
It warned services could be compromised if the posts cannot be filled.
Mark Power, director of organisational development and workforce, admitted the situation was "worrying".
The cost of accommodation in Oxfordshire is thought to be one of the key reasons why the hospital has staff turnover levels of nearly 14%, Mr Power said.
Updates on this story and more from Oxfordshire
"Our nurses want to provide the best possible care they can to our patients. We do rely on agency and bank staff but by doing that, we lose the continuity of care.
"We hope the cash incentive will help retain the number of staff here at the hospital."
The neonatal unit provides special care to up to 500 pregnant mothers and their unborn babies every year.
Shelley Jardine, a parent who has been treated at the Silver Star neonatal unit, said that when "being pregnant is complicated, I can't overstate how their knowledge, their support and their input meant that we had the confidence to go ahead and try again for another baby.
"It's really sad to think that people would be missing out on having that level of support when they are undoubtedly in a very stressful time."