Henley GP surgery's fear over workload and funding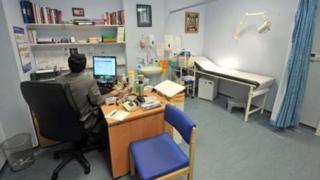 A GP surgery has written to patients admitting the national shortage of GPs has led to an increase in waiting times.
The Hart Surgery in Henley-on-Thames says it has been trying in vain to recruit doctors and has called on patients to write to their MP.
It claims "underfunding" has led to an unsafe workload.
The Department of Health said it is supporting GPs nationwide with £220m more investment from next month.
People 'demoralised'
Doctors at the surgery chose to write to patients explaining issues finding temporary doctors after two members of staff had to take leave of absence.
Practice GP Dr Amanda Gemmill said: "The recruitment crisis in the NHS is affecting all GP surgeries, about one in 10 posts currently go unfilled.
"The problem is no-one wants to become a GP, no-one wants to become a doctor, because of the workload and the constant GP bashing by the media and politicians."
The letter signed by all doctors at the surgery says that the practice offered 118,000 appointments, the equivalent of 11 appointments for each patient, for about £136 a year per service user.
The letter also says that the government's proposals to create a seven-day NHS will add to the pressure general practitioners are already under.
A Department of Health spokesman said that general practice would receive £220m extra funding a year from next month, and it was committed to recruiting 5,000 more GPs.
Dr Gemmill said: "I don't know where they're going to find 5,000 GPs [by 2020], it takes 10 years to train a GP.
"This increasing workload is taking its toll on our staff.
"People become demoralised. Funding has fallen year-on-year since 2004, we're having to provide an increasing service with an ever-decreasing budget."
According to the doctor, who qualified in 2006, each GP sees 50 patients face-to-face and calls 20 others every day.
The surgery has asked patients to write to MP John Howell to appeal for an increase in primary care funding.