Baby found in bag on Oxford footpath was girl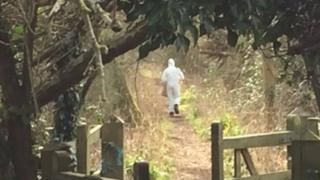 The body of a baby found dead in a black bag on a footpath was that of a girl, police have said.
The infant, still with its umbilical cord attached, was found by a member of the public in Marston, Oxford, on Monday.
Thames Valley Police said a medical examination had not been able to accurately determine how old she was.
The force added there were no obvious signs of injury and it was not believed she was born there. She weighed 8lbs.
Further tests are being carried out.
The baby was discovered in bushes on Edgeway Road.
Police said the mother had still not been traced and urged her to come forward over concerns for her health.
Jane Hervé, head of midwifery at Oxford University Hospital NHS Foundation Trust, said: "She's absolutely not in trouble, we want her to come forward to get the care that she needs.
"She'll be very emotional because she's just had a baby. From a physical perspective there's potential for her to bleed quite heavily [or] get an infection, which is why it's so important she comes forward."