River Thames hydro-power investors to be repaid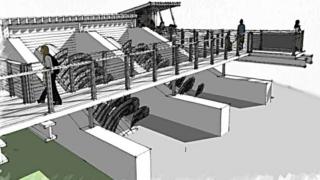 The group behind an abandoned hydro-electric scheme in Abingdon has said it will pay back investors £880,000.
Abingdon Hydro wanted to put two 10-tonne hydrodynamic screws at the town's weir at Abbey Meadow to generate electricity for up to 200 homes.
Last year the Benefit of the Community (Bencom) group scrapped its plans due to timescale issues and extra costs.
Project director Penny Clover told the Oxford Mail they would also restore the riverside.
'Very grateful'
"Everybody was very disappointed, but the cost was double what we thought," she said.
"We were very grateful for the support that we had, a lot of experienced people came forward to give their time."
Ms Clover blamed the government for changing rules to the feed-in tariff and removing a tax rebate.
She said the group was aiming to repay 86p in the pound, minus costs incurred by the project, by the end of the tax year.
Abingdon Hydro is also planning to pay Vale of Wight Horse District Council several hundred pounds to clear the site and replant 12 trees.
A Bencom is a society which is run primarily for the benefit of the community and ploughs profits back into the business.
The scheme was granted a licence by the Environment Agency in 2012 and given planning permission in 2013.