Oxfordshire leaders hit back at bid to scrap council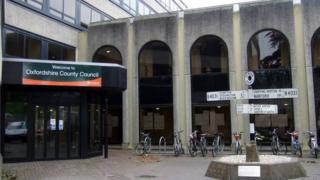 Oxfordshire County Council's political leaders have hit back at proposals to scrap the authority.
District council leaders want it replaced by four new unitary councils as a way of making services more efficient and saving money.
"We want to produce something that will really work and last for another generation," said Matthew Barber, one of the district leaders.
But county council leaders said the plans are "ill-thought out".
They have also called for a debate over the issues, which are already the subject of a public consultation over the summer.
Updates on this story and more from Oxfordshire
'PM getting his own back'
The leaders of the four political groups in the county council - Conservative council leader Ian Hudpseth, Labour opposition leader Liz Brighouse, Liberal Democrat leader Richard Webber and Green group leader David Williams voiced their opposition to the devolution proposal.
Another bid has already been submitted to the Department for Communities and Local Government (DCLG) which had been supported by the county council, district councils and health bodies.
However, an officer at the county council, Peter Clark, said that following the rival bid from the district councils there were "clear indications" the government would not support the original devolution proposals.
Ms Brighouse said: "It seems very vindictive against the leader of Oxfordshire County Council as he stood up to David Cameron against the cuts.
"It seems like David Cameron is trying to get his own back on Oxfordshire."
Mr Cameron said the district councils' bid "had a lot of merit".
'Significant savings'
The DCLG said it had not rejected Oxfordshire's initial devolution bid and would listen to any areas putting forward ideas.
Mr Barber, leader of the Vale of White Horse District Council, said four smaller councils would be "more efficient".
He said: "We can produce a better deal for Oxfordshire.
"We are confident that there will be significant savings."
Any new arrangements approved following the consultation are expected to take about two years to materialise.