West Hagbourne farm blaze tackled by 45 firefighters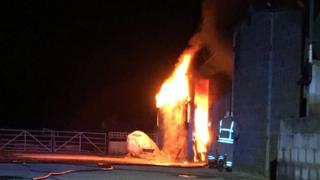 Forty-five firefighters worked through the night to stop a blaze in a storage lock-up ravaging a farm.
Owners of Manor Farm in West Hagbourne moved swiftly to move horses away from stables close to the fire, which started at about 21:45 GMT on Thursday.
Co-manager of the Oxfordshire farm Sue Lay said the blaze could have been "a lot worse" and praised the seven fire crews for their swift response.
Fire investigators are not treating the incident as suspicious.
It is thought the fire began in a storage area on manor farm used as a workshop for cabinet makers.