Oxfordshire leaders in bid to scrap county council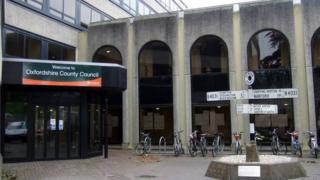 A "ground-breaking" bid to abolish Oxfordshire County Council has been proposed by the county's five district council leaders.
Plans to create four unitary councils are part of a devolution bid that would give the authorities greater powers.
Two councils in Gloucestershire and Northamptonshire would also join the new structure under the proposals.
Oxfordshire's deputy leader Rodney Rose said he would "regret anything" that saw the county's identity disappear.
In a joint statement, the leaders of West Oxfordshire, Oxford, Cherwell, South Oxfordshire and Vale of White Horse councils, said they were asking the government to agree to the plan and support a devolution deal that would allow joint working with the NHS, police and Local Enterprise Partnership.
---
Proposed unitary authorities:
Southern Oxfordshire Unitary Authority, replacing Vale of White Horse and South Oxfordshire District Councils
Oxford City Unitary Authority, replacing Oxford City Council
West Oxfordshire (Cotswold) Unitary Authority, replacing West Oxfordshire District Council and Cotswold District Council
Cherwell (South Northants) Unitary Authority, replacing Cherwell District Council and South Northamptonshire Council
---
Vale of White Horse District Council leader Matthew Barber said he did not support a "lift, shift and divide" of services which would "move financial burdens from one organisation to another".
Instead, the new councils would use "new models of commissioning".
Oxfordshire Clinical Commissioning Group said it supported bringing "health and social care closer together".
Mr Rose said: "I would regret anything that saw [Oxfordshire's] identity and heritage disappear. That said, our main focus must be on the best way to serve the people of Oxfordshire.
"Before any deal is done, we need to know the cost to the council taxpayers of Oxfordshire."
Oxfordshire's councils were last changed during the Local Government Act in 1974.
Detailed proposals will be considered by the councils before a public consultation in the summer.
If approved, new arrangements are expected to take about two years to come to fruition.