Third parties to run Oxfordshire children's centres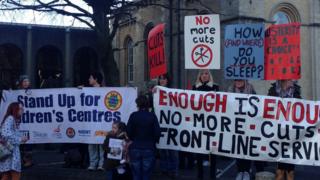 One million pounds will be spent on helping third parties run children's centres in Oxfordshire, social care bosses have said.
The council had proposed closing all 44 centres and replacing them with eight new facilities in a bid to save £8m.
But at an emotional budget meeting on Tuesday councillors agreed to reduce the controversial cuts to £6m.
Jim Leivers, children's services director, told a scrutiny committee funds would now be made available.
The £1m will come from government transitional funding given to councils to ease the effects of cuts.
The county council has said between 2010 and 2020 it needs to find £361m in savings.
Updates on this story and more from Oxfordshire
'Pretty iron cast'
It previously proposed locating new hubs in the neediest areas of Oxfordshire to concentrate on protecting vulnerable children.
But in a consultation on the future of children's centres, 71% of respondents did not opt for any of the council's options.
Lucy Butler, deputy director of children's services, told the committee earlier that despite the negative reaction it was "very, very difficult for the council to move away from these principles", calling them "pretty iron cast".
Keeping all the centres open would still not be possible because "we need to find £6m and we do really need to deliver a different model in the future".
Mr Leivers agreed, adding: "As much as I would like to start again, I don't think it's a practical way forward."
The council will keep childcare services at 11 of the existing centres.
The leader of the Labour group, Liz Brighouse, said a proportion of the £2m savings should be used to retain children's centre staff whose jobs are at risk.
Demonstrations took place outside county hall during Tuesday's pivotal meeting.
Among them was Clare Currie, the prime minister's aunt, who called the services under threat "really vital for people's wellbeing".