Oxford City Council raises doubts over John Radcliffe pipeline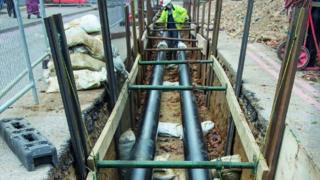 The future of a controversial pipeline between two Oxford hospitals is up in the air after the city authority raised doubts about its legitimacy.
In December Vital Energi started a £14.8m project to upgrade the heating and hot water systems at the John Radcliffe and Churchill hospitals.
But a retrospective planning application has been ruled "invalid" by Oxford City Council.
It warned that the relevant landowners may not have been kept in the picture.
Updates on this story and more from Oxfordshire
Patsy Dell, head of planning, said: "The necessary notifications relating to the ownership of the land have not been carried out in accordance with the mandatory requirements.
"Specifically, it is our understanding that Oxfordshire County Council may not own all of the highway land where the pipeline would be installed."
She said the company needed to provide further information or submit a revised application.
The work had been suspended while permission for the project was investigated.
A report by Sue Scane, director for environment and economy at the council, said the work began with "very little advanced information nor any consultation with local residents".
She said while county council staff "acted within their powers and remits" the "exceptional nature" of the project and the "level of disquiet expressed" meant the authority should consider reviewing its processes in future.
The Hospital Energy Project is an 18-month scheme and the pipeline will be 1.6 miles (2.2 km) long when it is finished.
Works are planned in Woodlands Road, Sandfield Road, London Road, Latimer Road, All Saints Road, Stapleton Road, Old Road and Churchill Drive.
Residents have previously complained about a lack of information regarding the project.