Radiohead lyrics in poetry book is auctioned for £12,000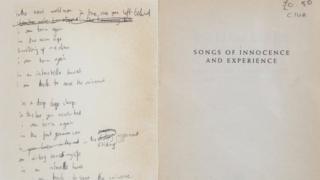 A poetry book containing lyrics handwritten by Thom Yorke, has been sold at auction for £12,000.
William Blake's Songs of Innocence and Experience was donated by the frontman to an Oxfam shop in Oxford.
After the book had originally been priced at 50p a volunteer and Radiohead fan spotted the lyrics to Airbag and other songs written on various pages.
The book was sold on Friday and all proceeds will go to the charity.
'Nice to see musings'
James Carruthers, manager at the Oxfam bookshop in St Giles, said the Radiohead frontman had dropped the book off as part of a larger donation.
It had originally gone on the shelf for 50p and was spotted by volunteer Alex Barker.
"It was luck that it was someone who knew Radiohead lyrics.
"We were both just very excited, both me and Alex are huge Radiohead fans so it was very difficult to be objective about it.
"We were excited but knew we had to do more work.
"As soon as he found it on the shop floor a few customers were there and said it was amazing."
Mr Carruthers said he contacted the band and Radiohead's management said it was fine to sell the book at auction.
He said: "It is always nice to see the original musings of someone who is quite a big character, that is what is interesting about it, you can see how he took the work of William Blake and tied them to his own ideas."
The book was auctioned by Dreweatts and Bloomsbury and all proceeds will go to Oxfam.