Homeless woman who foiled Oxford burglary 'wants to buy boat'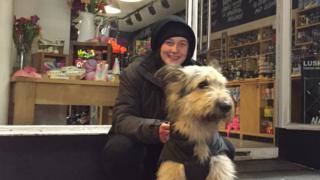 A homeless woman who foiled a burglary at a beauty store says she wants to buy a boat with money raised for her by well-wishers.
Lottie Pauling-Chamberlain, who sleeps outside Lush in Oxford, challenged a man she saw leaving the store and retrieved a laptop and cosmetics from him before returning them to the shop.
Staff are raising money to thank her and by Monday the total topped £6,000.
Writing on the fundraising page, she thanked donors for their support.
She said: "hi so I'm Lottie and that my 'dog Marley' as in bob thank u all sooooooooooo much literally I'm overwhelmed had to open first facebook account just to comment on all this. hope the sun shines on all ur faces as a card sent by a lovely lady to lush said."
'Extraordinarily brave'
Ms Pauling-Chamberlain, who describes her occupation on her Facebook page as Lush's "Bouncer (Doorman) LOL" said she hoped to buy caravans to house fellow homeless people.
Later she added: "ok so now found a boat that is purrrrfect for marley and i.n hope we get there with ur help we will"
Staff at Lush in Cornmarket Street realised the laptop and large box of cosmetics had disappeared when they opened the shop on Wednesday.
The next day Ms Pauling-Chamberlain, who sleeps rough in the area with her dog Marley, returned the stolen items.
Store manager James Atherton said: "She confronted him as he walked out. She said 'I know you are not from Lush', and took the stuff back."
On their Facebook page, staff wrote: "We have known Lottie for years, and have always felt safer with her outside of our shop.
"She knew that the man walking out of our shop was not us, and she did the extraordinarily brave thing of challenging him."