Oxpens in £200m development deal for Oxford city centre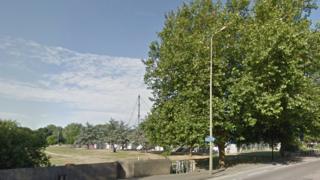 A new neighbourhood with up to 500 homes plus offices, academic buildings and commercial space could be built in a £200m revamp of Oxford's west end.
The city council and Oxford University's Nuffield College have signed an agreement to form a joint venture company to build on at least 16.7 acres (6.8 ha) of land in Oxpens.
The housing will include social housing and homes for key workers.
Oxford City Council leader Bob Price said he was "delighted".
Updates on this story and more from Oxfordshire
The joint venture company has acquired eight acres of land from government-owned London and Continental Railways, which will be used alongside a further 8.7 acres owned by the city council.
The acquisition ends "years of uncertainty" over the development of Oxpens after a previous developer pulled out.
New jobs
The site, between the Westgate shopping centre and Oxford railway station, is the largest remaining development area in the city centre and forms part of a larger regeneration project for the city.
A Nuffield College spokesman said the site would play a "pivotal key role" in bringing more affordable housing to Oxford.
Mr Price said: "We are delighted to have been able to establish this commercial partnership with Nuffield College and to bring together the whole of the Oxpens site for development.
"Oxpens will unlock major private sector investment and new jobs."
The joint venture company will now select a development partner and aims to start work after the opening of the new Westgate shopping centre in autumn 2017.