Oxford roads flooding plan announced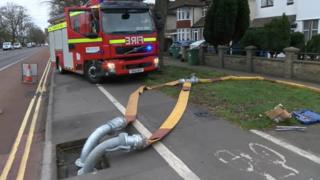 A powerful pump is among measures that could be used if Oxford's roads flooded again in the future.
Heavy rain caused widespread disruption in the city in February 2014 with homes and major roads cut off for days.
Plans include a high-volume pump to be used on Abingdon Road and inserting pipes under Botley Road.
Oxfordshire County Council said the aim was to keep roads open "as long as physically possible" following severe weather.
During the winter floods of 2014, Oxford's two main arterial routes Botley Road and Abingdon Road had to be closed. Train services also had to be stopped due to flooding on the line.
Under the "interim flood relief plan" announced by the county council and Oxfordshire Fire and Rescue service, pumps will also be used in Binsey and South Hinksey to get the water off the roads and onto the adjoining land.
The high-volume pumps are capable of pumping 6,000 to 7,000 litres of water every minute.
Rodney Rose, deputy Leader of Oxfordshire County Council, said: "We can't guarantee that these roads will never flood again as no-one knows what Mother Nature might throw at us but there is now a much greater chance of the roads staying open."