Oxford United and Millwall FC violence leads to eight arrests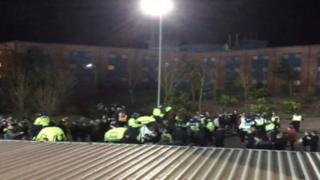 Eight men have been arrested following violence around an Oxford United and Millwall FC match on Tuesday night.
Bottles and stones were thrown at Thames Valley Police horses before and after the game, injuring two horses.
Area Commander Christian Bunt said a "sizeable number" of supporters from both clubs went to the game specifically to cause trouble.
He added that many further arrests would be made in the coming weeks and a post-match investigation was under way.
"We were forced to deal with a number of disorderly incidents which included serious violence," he continued.
"This kind of behaviour is not acceptable.
"It is a great shame that these individuals ruin football events for genuine supporters who attend matches peacefully."
The arrests so far are as follows:
A 32-year-old man on suspicion of affray, who remains in police custody
A 32-year-old man from London on suspicion of attempting to enter a football match whilst drunk
A 19-year-old man from Oxford on suspicion of affray, who remains in police custody
A 17-year-old boy from Bexley on suspicion of affray
A 24-year old man from Bexley on suspicion of criminal damage and possession of a Class A drug
A 56-year-old man from Oxford on suspicion of affray
A 20-year-old man from Wantage on suspicion of possessing an offensive weapon
A 54-year-old man from Epping on suspicion of assault with injury