Oxford landlords will need property licences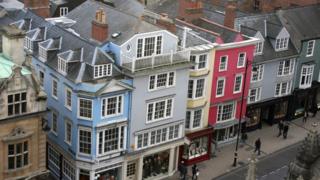 Private landlords in Oxford could soon need a licence for each of their properties under plans being proposed by the city council.
The authority said the move would help drive up standards of rented property.
A similar scheme, launched four years ago, to licence houses of multiple occupation (HMOs) was criticised last year when it emerged half the city's properties were still unregistered.
Councillors will discuss the new scheme on 11 February.
Updates on this story and more from Oxfordshire
Council leader Bob Price said: "It's important that people who rent - whether in an HMO or in a single tenant property - know that it's a safe property, it's been well maintained and it contributes to the local environment - that it's not a blot on the landscape."
The authority said an enforcement approach would ensure minimum statutory standards were met.
It said it hoped the licenses would ensure "beds in sheds do not become an accepted feature in Oxford".
In November, the National Landlords Association criticised the city's HMO licensing scheme, launched in 2011, saying it drove up rents and forced people out of the city - something the council denies.
The authority estimates more people now rent rather than own their home in Oxford.