The first community centre to be built in Oxford for 25 years opens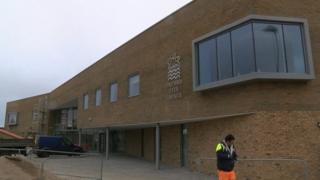 A new £4.76m community centre, hailed as a great asset for one of Oxford's most deprived communities, has opened.
The Rose Hill Community Centre features a gym, conference facilities, community library, health facility and ballroom.
It is also home to Rose Hill Junior Youth Club, Rose Hill Social Club and Rose Hill and Donnington Advice Centre.
The sites of the former community centre in The Oval and the current advice centre are set to be redeveloped to create new homes.
Bob Price, leader of Oxford City Council, said: "One part of Rose Hill is in the bottom 10% of deprived areas in the country, but that doesn't mean to say it's not a good community.
"It's a very strong community, a very active community... so it will be a very good new facility and reflect a 21st Century facility rather than a 1940s one."
Mr Price added that he was "delighted" with the "very beautiful building", the first community centre to be built in the city for 25 years.
Community worker Fran Gardner described the impact of the new centre as "enormous".
"The children attending junior youth club are so excited at the space, the facilities, the freedom that the building offers."