Oxford A40 roadworks progress 'embarrassing'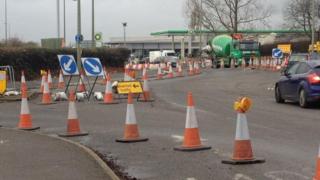 The pace of progress on roadworks at two city roundabouts is "embarrassing", a company's chief executive has said.
A £10m scheme to improve Cutteslowe and Wolvercote roundabouts on the A40 in north Oxford began last summer and is due to take 16 months.
Craig Marshall, of Siemens Magnet Technology in Eynsham, says overseas colleagues and clients are "amazed" at how long the roadworks are taking.
Oxfordshire County Council said work was progressing as planned.
Since the work began in 2015, the roadworks have become a notorious spot for traffic jams and delays.
Updates on this story and more from Oxfordshire
'Nobody working'
Mr Marshall, head of the international manufacturing company, said: "Our hauliers have had to increase their journey times by up to an hour.
"The main frustration is not so much the roadworks... it's just the pace with which those projects are taking place.
"So often it is the case that we drive past and nobody seems to be working on improving the roads.
"Often my colleagues from Germany are here and sometimes we have visitors from Japan and they are, quite frankly, amazed at how long it seems to be taking.
"It is a bit embarrassing to explain every time, that there's a delay because of roadworks and they're the same roadworks as the last visit."
A council spokeswoman said: "The work we are doing at Cutteslowe and Wolvercote roundabouts is essential to enable economic growth and avoid large-scale congestion becoming a permanent feature of life in the future.
"We have scheduled the work to strike a balance between getting work done while taking into account other factors such as impact on traffic, cost, safety, noise and disturbance for local residents.
"The number of people we have on site working at any one time is appropriate to the tasks being done and, because we often have work being done in different locations across a large site, it is likely that you will see small teams at work."