Health and safety fears raised at 'failing' Oxford school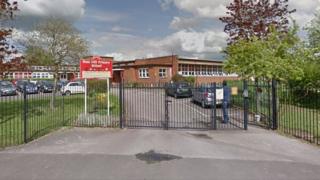 A school has been placed in special measures after inspectors found "critical" health and safety advice was not being followed.
An Ofsted report into Oxford's Rose Hill Primary School also raised concerns about a lack of training to combat "extremism and radicalisation".
It said during its inspection in November a visitor gained access to the school without being challenged.
Headteacher Sue Vermes said the school had already made improvements.
Updates on this story and more from Oxfordshire
But in the report Ofsted said the leadership had "insufficient awareness of the striking decline in school performance and falling standards".
It rated the school as inadequate in five out of five key areas and added: "Standards have declined significantly since 2014."
In a report in June last year Ofsted said the school "requires improvement".
The latest report raised concerns about electrical appliances not tested, chemicals stored in an open cupboard, flammable material left in a boiler room, and teachers not having legally required checks.
'Dangers of extremism'
It also said students were uninspired by the teaching and some had high rates of absence.
The report added: "Governors have not ensured they meet their statutory duty to keep pupils safe.
"For example, training to ensure pupils are protected from the dangers of extremism and radicalisation has not been completed."
It also said teachers did not challenge several pupils who were seen scrunching up their work and throwing it on the floor.
Last year the school's pupils lobbied the Prime Minister for money to repair "unsafe" classrooms with broken lights and mouldy ceilings.
Mr Vermes said the school had taken measures to put right all the health and safety concerns identified by the inspectors.
She added that although "teaching and learning have to improve", not all the safety criticisms were accepted by the school.
"We think that there were a couple of small issues that the inspectors generalised into major issues," she added.