Faringdon Business Park owner fined for illegal waste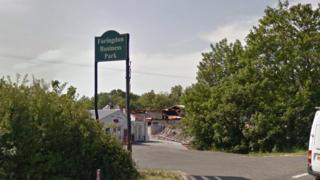 A company has been fined £20,000 for allowing illegal waste activities on an Oxfordshire business park.
The Environment Agency said Tapecrown Ltd allowed waste to be stored, treated and burnt at Chowle Farm - also known as Faringdon Business Park - without the necessary permits.
Appearing at Oxford Crown Court on Monday, David Crossley Cooke, of Tapecrown, was also fined £4,000.
Costs are to be determined at a later date.
The Environment Agency, which brought the prosecution, said between April 2010 and June 2013 various waste operations took place at the business park, just off the A420 near Faringdon.
'Zero tolerance'
In particular, a skip hire business operated illegally from the site and another tenant deposited large quantities of tyres.
It said two other individuals had already pleaded guilty to waste offences.
An Environment Agency spokesman said: "Tapecrown Ltd knowingly permitted these waste crimes to be carried out at Faringdon Business Park.
"The Environment Agency wrote to the company repeatedly and advised as to what had been witnessed on site and reported by others.
"We are taking a zero tolerance approach against offenders. In cases like this where individuals consistently operate illegally, we have absolutely no hesitation in prosecuting them as we want to make sure that waste crime doesn't pay."