Oxfordshire County Council cabinet agrees £69m of cuts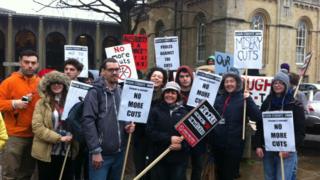 Councillors in Oxfordshire have approved further budget cuts of £69m over the next four years.
The county council's cabinet voted in favour of cuts to services including children's centres and bus subsidies.
David Cameron previously urged the Conservative-run authority to "look again" at the plans, saying it must become "more efficient".
The council says it has been "badly hit" by the government's new funding formula.
The latest cuts are in addition to £292m already slashed from the budget between 2010 and 2020.
Carer support cuts
Ahead of the meeting, protesters gathered outside County Hall and, during the debate, children's centre campaigner Charlie Payne urged councillors to "stick it to Cameron and resign".
Cabinet member for finance Lawrie Stratford told the meeting that, nationally, the Revenue Support Grant - given to councils by central government - had been cut by about a quarter, but Oxfordshire's grant had been cut by about 37%.
He said: "The problem is, under this new formula, shire counties are worse off."
Cuts are also planned to homelessness support, day centres for elderly people, support for carers, mobile libraries, road gritting and HIV prevention services.
The prime minister, who is MP for Witney in Oxfordshire, said the most recent spending review had allowed councils to "sell property assets and use the capital to invest in transforming local services".
Council leader Ian Hudspeth said the council had been left in a position that was beyond its "worst-case scenario".
Cuts are also planned to training budgets and the library service, and the council wants to increase its council tax precept by nearly 4% potentially costing people up to £50 more a year.
The final budget must be agreed by the full council next month.